Master Cylinder Reservoir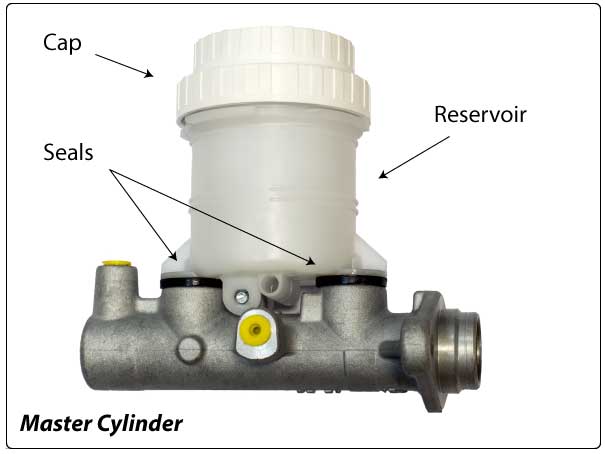 Most of today's vehicles have composite plastic reservoirs with a screw on type cap. O-rings are used to contain and provide a fluid seal between the master cylinder and its reservoir.
The reservoir cap has a rubber gasket between the cap and the reservoir. This cap is vented to allow the gasket to flex inward and prevent air from entering the system as reservoir levels drop. The gasket functions as a flexible seal to prevent air contamination of the brake fluid. This is because brake fluid is hydroscopic; it readily absorbs moisture from the air.
A deformed or failing gasket seal can be caused by contamination. Petroleum products are particularly damaging to rubber brake components. Inspect the gasket for damage and the fluid for contamination.
If the gasket's seal is broken and the brake fluid is contaminated, a flush will be necessary. The type of brake fluid used is usually found in raised lettering on the plastic cap. Only add the recommended brake fluid to a brake system.